3 perspectives to maximise your value from the cloud
As the world's largest cloud platform, Microsoft Azure is providing organisations across the globe with real value. But to get the most from your Azure investment, there are 3 crucial perspectives you need to consider: people, process and business performance (or profit).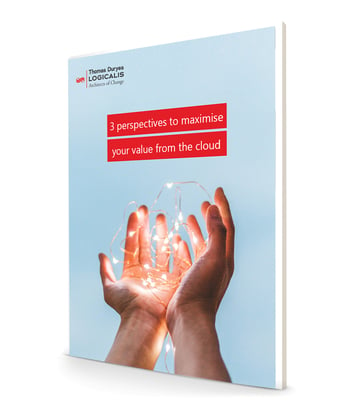 Aligning all three perspectives is the key to your success, but transitioning your organisation from the old ways of on-premise to the new cloud platform presents some unique challenges. This white paper provides actionable tips and advice to help you get there faster.
Discover how you can support, encourage and motivate your IT team to embrace the new opportunities working in the cloud presents.
Learn how to align your IT department with the goals and needs of your organisation to achieve more.
Find out how to shift the focus from technology to processes to keep up with the rapidly changing tech environment.
Uncover which Azure processes you can utilise to boost productivity and increase collaboration across all departments.
Understand and track your spending in the cloud to avoid unnecessary costs and bill shock.
Whether you're in the cloud, or making the transition, the steps outlined in this white paper will help you get maximum value from Azure.